Frequency converters
Our main goal is to create reliable and possibly inexpensive series of products, which give many possibilities of drive control. These assumptions were reached mainly thanks to keeping almost whole production process in our company, which allowed to fulfill strict quality norms.
Frequency converters:
We are offering vector-controlled frequency converters dedicated to drive applications divided into groups: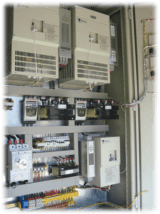 AFC200 type with single-phase supply 230 V @ 50/60 Hz,
power range: 0,37 kW – 3,0 kW; other voltages are also available on request
MFC710 type with three-phase supply 3x400V, 3x500, 3x690V @ 50/60Hz, power range: up to 800 kW at 690V,
MFC710AcR type - regenerative frequency converter to control induction motors. MFC710AcR allows full power flow both in motoring and generating modes. Power range: 0,75 - 500 kW,
MFC810 type - designed to control induction motors with a rated voltage 1000/1140V. Modular design, 3-level topology and a liquid cooling system predispose this series for installation in areas with relatively low cubature. Power range: 55 - 800 kW.