Active Front End frequency converter MFC710AcR type
0,75 - 500 kW
The MFC710AcR frequency coverter is designed to control induction motors with rated voltage of 400V. We also offer versions for voltages 500V and 690V and other according to individual arrangements. The converter enables the return of electrical energy to the mains (four-quadrant mains rectifier).
The MFC710AcR was developed by integrating an AcR (Active Rectifier) reversing module into the MFC710 frequency inverter to replace the conventional input circuit. It allows to eliminate problems resulting from the use of diode rectifiers in drive systems, i.e.:
distortion of the mains current and voltage caused by the non-linear nature of the load,
unidirectional power flow.
The following figures show block diagrams of both types of drives.
Block diagram of a traditional MFC710 system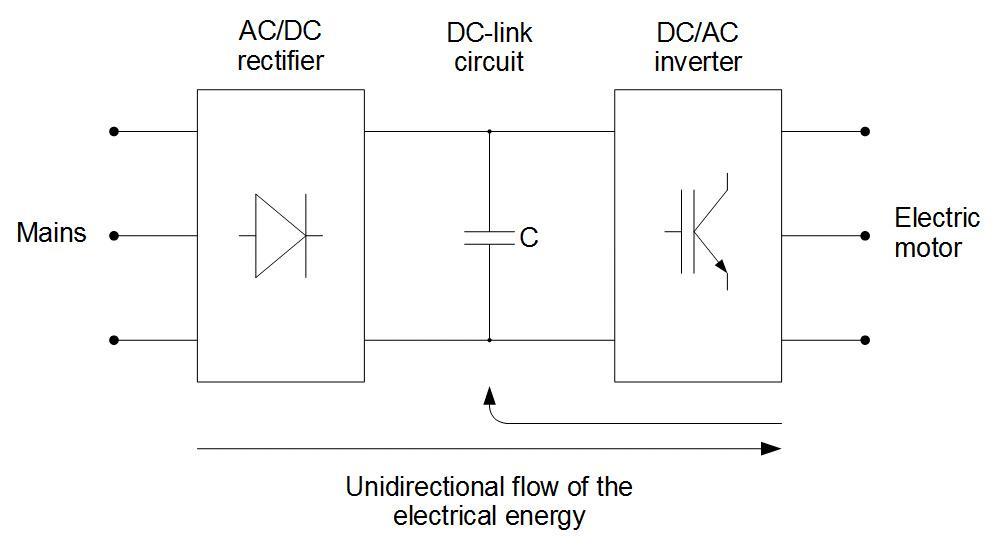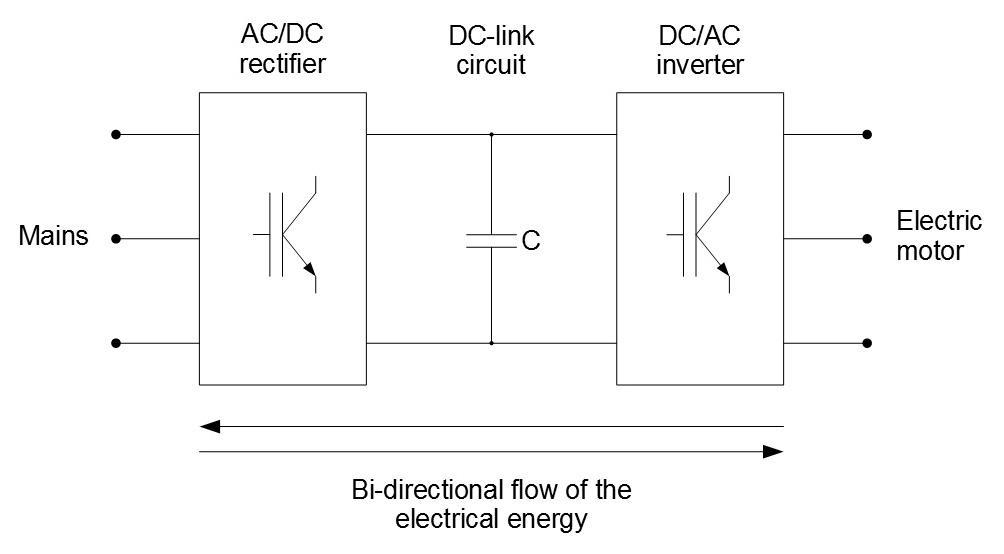 Using the MFC710AcR inverter, we obtain:
PFC power factor correction, limitation of THDi current distortion factor and THDu voltage


The AcR module provides a sinusoidal input current waveform, eliminating the negative effect of higher harmonics entering the mains when conventional power supplies are used.

Bi-directional power flow, four-quadrant operation


In converter drives, there is often a situation in which the energy stored in the load must be transferred back to the source or be cut off in the form of heat on an additional resistor. If this process is intense or is repeated often, the use of an additional braking resistor may be unprofitable or impossible. The AFE frequency converter allows for a bi-directional power flow, which allows it to transfer the accumulated energy to the mains for reprocessing. This solution is justified not only from the point of view of the energy balance, but also the operating costs. The AFE frequency converter is used, among others, in drive applications of centrifuges, cranes and in the processing of energy obtained from renewable sources.

Stabilizing the voltage in the intermediate circuit


The AcR module is a three-phase AC / DC boost converter. This means that the voltage in the converter's intermediate circuit can be higher than the supply system voltage.The use of the AcR module in the frequency inverter allows to obtain on the inverter output a voltage higher than the supply voltage (e. g. 400VAC 50Hz, 0-500VAC 0-400Hz, 0-500VAC 0-400Hz).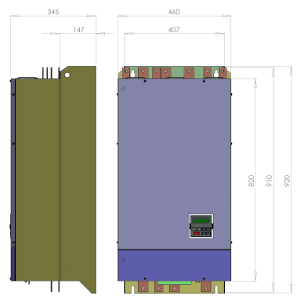 MFC710AcR 200kW 400V
Main features:
Three-phase supply:
3x400V, 3x500V lub 3x690V, 45 .. 66Hz;
other voltages are available on request
Output voltage:
3 x 0 .. 400V, 3 x 0 ..500V lub 3 x 0 .. 690V,
0 .. 400Hz
Active Front End circuit (Active rectifier)
Control modes:

U/f (linear, sqare-law scalar),
Vector mode (sensor or sensorless)

Removable operating LCD panel
Integrated Programmable Logic Controller (PLC)
Built-in "reeler-calculator"
Built-in pump or fan set controller
Integrated PID controller
Embedded communication module RS-232/RS-485 (Modbus)
Programmable fixed frequencies
Digital potentiometer function
Possibility of direct connection of incremental encoder: 5V, line driver RS-422,
Elimination of resonance frequencies bands
Definable shapes and slopes of selected frequency characteristic (linear, "S"-shaped)
Allowable work with torque control
Automatic identification of motor parameters
Programmable control structure:

two customizable control variants: A & B
speed selector block (control panel, analog input, PID controller, digital potentiometer, function block)
torque selector block (analog inputs, function block),
run and direction control (control panel, digital input, function block),
programmable digital inputs: run, direction, run blockade, external trip, trip cancellation,
programmable digital outputs (3 relays and 1 open collector type): ready, run, fault, warning, overtemperature of heatsink, given speed reaching, threshold speed reaching, current limit, function block),
programmable analog outputs: frequency, rotational speed, output current, voltage, loading of motor, function block,

Total work counter (hours)
Diagnostic and blockade system
Control panel protection with system of passwords
Memory for 4 motors parameters
Allowable use of default values for all parameters
The MFC710/AcR frequency converters do not have a built-in braking transistor as standard, which makes it impossible to connect an optional braking resistor.
The necessity to equip the converter with a braking transistor (necessary to connect an optional braking resistor) should be reported at the stage of ordering. It is important because the braking transistor is assembled at the converter production stage and it is not possible to add it later.

Catalogue card

User manual